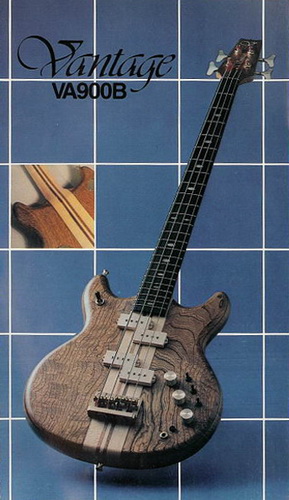 'Devil Bass'
From a catalog:
Vantage VA900B Series

Designed for the professional player who needs a totally versatile instrument for every modern musical style, the Vantage VA900B bass embodies the highest standards of construction and finishing work coupled
with futuristic electronic circuitry. The VA900B's state-of-the-art active/passive electronic system (housed in a shielded brass compartment) offers up to a total of ±25dB of active tone equalization off the center detent
position. The neck-through-body "transmit" design is the ultimate choice for sustain and structural continuity while two custom-engineered Vantage "split coil" humbucking bass pickups provide a powerful
bottom-end sound with exceptional definition on top. Special coil tap and phase reversal switches can be used to futher modify the overall sound.




Specfications
Data

---

Scale length
34 inches
Nubmer of frets
24
Neck (material & construction)
Three pieces of laminated maple with two walnut stripes and a multi-layared center section of ash, walnut and maple running the entire length of the guitar in "transmit" style design.
Adjustable truss rod.
Fingerboard
Rosewood with a brass nut.
Body (material & construction)
Multi-layared ash, walnut and maple with two walnut stringers.
Finish
Matte oak finish.
Pickups
Two Vantage custom-engineered "split coil" humbucking bass pickups.
Control
Master volume
Active treble & bass control with center detent position
EQ volume
Coil tap / Phase / EQ volume / pickup selector switches.
Machine heads
Gold-plated, die-cast prescision tuners.
Control knobs
Brass with groove gripe
Bridge / tailpiece
Brass adjustable combination bridge / tailpiece.
---
Sources:
---
Pictures:
(The guitars may have been modified by it's owners over the years…)