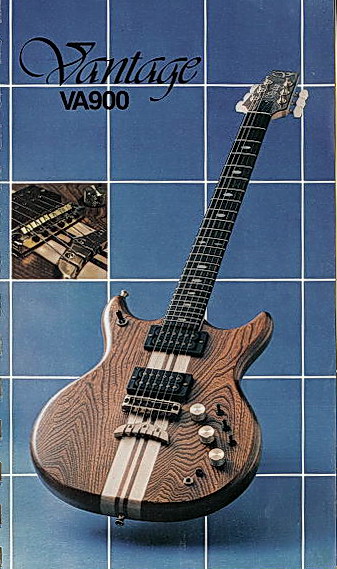 From a catalog:
Vantage VA900 Series
A "top-of-the-line" instrument in every sense of the word, the Vantage VA900 virtuoso solid body guitar offers the descriminating player superlative construction and finishing work, the finest woods available and a multi-faceted active/passive electronic system representing the most quiet, state-of-the-art design available today.
The neck-through-body "transmit" design provides the ultimate in stability and sustain.
The special active/passive circuitry consists of an active preamp providing up to 13 dB of boost to overdrive your sound and an active equalization/tone control offering a total of ±25 dB of tone shaping.
Two custom-designed Vantage #600GD humbucking pickups produce a powerful and articulated sound.
A coil tap and phaser reversal switch help to further modify the sound.

Specifications
Data

---

Scale length
25½ inches
Number of frets
24
Neck (material & construction)
Three pieces of laminated maple with two walnut stripes and a multilayered center of ask, walnut and maple running the entire length of the guitar in the "transmit" style design.
Adjustable truss rod.
Fingerboard
Rosewood with a brass nut.
Body (material & construction)
Multi-layered ash, walnut and maple with two walnut strings.
Finish
Matte oak finish.
Pickups
Two Vantage 600GD custom-engineered humbucking pickups.
Circuitry
Preamp volume boost and active tone equalizatiion.
Controls and switches
Master volume
Active treble & bass control
Coil tap / phase / boost / pickup selector switches.
LED indicates low battery level (two 9 volt)
Machine heads
Gold-plated, die-cast precision tuners.
Control knobs
Brass with groove grip.
Bridge / talepiece
Brass adjustable combination bridge / tailepiece.
In production
1979
---
Sources
---
Pictures
(The guitars may have been modified by it's owners over the years…)